The Sheehan Scholarship in Sustainable Urban Development


A new scholarship benefitting students on our Master's in Sustainable Urban Development will provide a fully funded place on the course for a student with an interest in undertaking research in the area of recycled aggregates. The Sheehan Scholarship is sponsored by the Sheehan Group, an Oxford based haulage and plant hire company.
Tara Sheehan of Sheehan Group commented: 'Sheehan Group is delighted to sponsor a student on the MSUD Programme. The combination of industry and academic knowledge the course offers provides the perfect partnership for a research project into recycled aggregates for sustainable development. We look forward to working closely with the programme and student over the coming years.'
David Howard, Associate Professor in Sustainable Urban Development said, 'We are delighted and excited to have this support, and look forward to being involved more closely with Sheehan Group. The scholarship will have a very positive impact on both the individual student and the practical impact of the programme more generally.'
Applications for the scholarship are now open until 22 January 2016. More information can be found on the Sustainable Urban Development web page, at: www.conted.ox.ac.uk/msud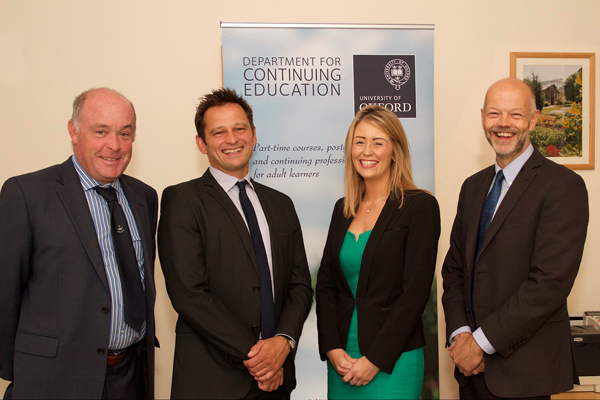 Pictured from left to right are Chris Sheehan, Managing Director of Sheehan Group; David Howard, Associate Professor in Sustainable Urban Development; Tara Sheehan, Finance Director of Sheehan Group; and Adrian Stokes, Deputy Director of the Department for Continuing Education. (Photo credit: Mel Cunningham)
Annual Bursary Fund Appeal
In November the Department will conduct an appeal for donations to our bursary fund. Many of our students already benefit from bursary support and it is our ambition to ensure that such funding is available to every student who requires it.
If you would like more information about the bursary fund please contact Rachel Green in the Development Office on rachel.green@conted.ox.ac.uk.