MSt in Practical Ethics
Course details
Overview
The MSt offers high-quality training in practical ethics, drawing on the internationally recognised expertise of Oxford's Uehiro Centre for Practical Ethics, the Ethox Centre and the Faculty of Philosophy.
The course is run by the Oxford Uehiro Centre for Practical Ethics, in the Faculty of Philosophy, and the Department for Continuing Education and provides training in practical ethics through flexible, part-time learning. The course is highly interdisciplinary in character but the primary focus is ethical and philosophical. It focuses on the application of rigorous philosophical analysis to real-life ethical problems and provides a grounding in ethical concepts and methods, as well as in major debates in practical ethics. Students will also have the opportunity for in-depth research on a topic of their choice.
Quick links
Ethics at Oxford
Oxford is ranked as the top University to study ethics [1] with research in this area led by the Oxford Uehiro Centre for Practical Ethics. The course is led by the Uehiro Centre's Professor Guy Kahane with additional teaching from the Medical Division's Ethox Centre. Other researchers from the Oxford Uehiro Centre and beyond will contribute to the course, including Professor Edward Harcourt, Professor Dominic Wilkinson, Professor Thomas Douglas and Ethox's Drs Mark Sheehan. There will be other occasional lectures by world experts such as White's Chair of Moral Philosophy, Jeff McMahan.
[1] Oxford is widely seen as a world leader in practical ethics, with research in this area led by the Oxford Uehiro Centre for Practical Ethics.
MSt students participate in the life of the Oxford Uehiro Centre for Practical Ethics, a vibrant research centre in Practical Ethics with around 20 staff members working on a range of issues in Practical Ethics, and also will study under members of the Ethox Centre in the Department of Public Health.
You can learn more about some of the research going on at the Centre through our videos, opinion pieces, blogs, or follow on Facebook or Twitter for up to date information.
Who is this course for?
The course is relevant to students from a range of academic and professional backgrounds, including medicine and other health sciences, cognitive science, philosophy, bioethics and the legal and public policy sectors.
The course in detail
Course stucture
The MSt in Practical Ethics is a part-time course consisting of six taught modules and a dissertation. There is one compulsory module and a choice of five out of eight option modules. Students will be assigned a tutor throughout the taught elements of the course.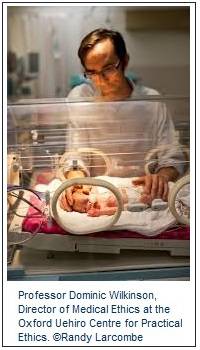 Compulsory modules:
Option modules:
The core compulsory module, and five out of the eight option modules (six modules in total) will run each year. We cannot guarantee that all eight option modules will be covered in any 2 years.
Each module will be taught over an intensive residential teaching week in Oxford to include lectures, seminars, discussion groups. Modules are normally provided in clusters, offering students options around the number of visits to Oxford each year. Online materials are available including essential readings, texts and online lectures, alongside forums where students can communicate and continue discussion when away from Oxford.
Download provisional module schedule for upcoming academic years.
Course aims
The programme
provides high quality training in practical ethics, drawing on the considerable teaching and research strengths of Oxford in this area.
offers students the opportunity to develop their critical thinking and analytical skills, and to build an in-depth knowledge of contemporary ethical and philosophical issues.
is designed to accommodate philosophy graduates wanting to specialise in practical ethics and professionals with a background in other relevant areas (e.g. medicine or law) who either wish to transition to practical ethics or who desire training in practical ethics to supplement their career.
is flexible, allowing students to complete the course part-time with short but intensive teaching sessions in Oxford, allowing employed professionals to complete the degree without disruption to their careers.
covers a wide range of topics within practical ethics, including both core issues in bioethics and medical ethics and emerging areas of research such as AI ethics, neuroethics and the philosophy of mental health.
is research-led, taught by (and informed by the research of) leading contributors to current debates in practical ethics.
Assessment methods
Assessment for each module is based on one 3,500 word essay per module. Students will also complete a dissertation on a topic chosen in consultation with a supervisor and the Course Director. The dissertation should not normally exceed 15,000 words.
Academic team
Course Director: Professor Guy Kahane
Guy Kahane is Director of Studies at the Oxford Uehiro Centre. He is also a Fellow and Tutor in Philosophy at Pembroke College, Oxford, and Professor at the Faculty of Philosophy, University of Oxford. Professor Kahane was a recipient of a Wellcome Trust University Award (2009-2014), and has been a Research Fellow at the Uehiro Centre since 2005. He is also an Associate Editor of the Journal of Practical Ethics and was previously an Associate Editor of the Journal of Medical Ethics. Kahane has published over 100 articles, many of which have appeared in leading peer-reviewed journals in philosophy and science, such as Nous, Ethics, Philosophy and Phenomenological Research, Nature, PNAS, and Cognition. His research interests include practical ethics, metaethics, moral psychology and philosophy of religion. Kahane is also actively engaged in interdisciplinary empirical research into the neural and psychological processes that underlie moral decision-making.
Deputy Course Director: Dr César Palacios-González
Dr César Palacios-González is a Senior Research Fellow in Practical Ethics. His research interests include bioethics, philosophy of medicine, neuroethics, and applied philosophy. He is part of the team running the Masters in Practical Ethics, offered by the Oxford Uehiro Centre for Practical Ethics in the Faculty of Philosophy and the Department for Continuing Education. Dr Palacios-González graduated from The University of Manchester in 2016 with a PhD in Science Ethics, where he was part of the Wellcome Trust funded project 'The Human Body, its Scope, Limits and Future'. His doctoral work explored the ethics of human/non-human chimera research. Prior to coming to Oxford, he was a Research Associate at the Centre of Medical Law and Ethics, King's College London, working in the Wellcome Trust funded project "The Donation and Transfer of Human Reproductive Materials". There he explored the ethics of Mitochondrial Replacement Techniques and In Vitro Gametogenesis.
Lead Tutor: Dr Jonathan Pugh
Dr Jonathan Pugh is a Parfit-Radcliffe Richards Senior Research Fellow and Manager of Visitors Programmes for the Oxford Uehiro Centre, University of Oxford. He recently led a Wellcome Trust funded project entitled "The Ethics of Novel Therapeutic Applications of Deep Brain Stimulation". His research interests lie primarily in issues concerning personal autonomy in practical ethics, particularly topics pertaining to informed consent. He has also written on the ethics of human embryonic stem cell research, criminal justice, human enhancement, and gene-editing.
Presenters
Teaching staff and associates of the Oxford Uehiro Centre for Practical Ethics and guest speakers will present on the week-long intensive sessions.
Libraries
Philosophy and Theology Faculties Library
Students have access to the Philosophy and Theology Faculties Library in the Radcliffe Humanities Building (which houses over 25,000 volumes and has an extensive collection of periodical and on-line access to many philosophical databases), and to the University's Bodleian Library (one of five copyright libraries in the UK, it holds 6,500,000 volumes and offers a unique research facility to the University), as well as to the numerous other specialist research libraries in Oxford. The centre hosts a growing library of applied ethics and other related books.
The Department for Continuing Education
The Department for Continuing Education is based at Rewley House in Wellington Square.
In addition to supporting the various aspects of the course that involve online learning, the Department has facilities available to students during their attendance in Oxford. In particular, the Department has a Graduate Room - a study space dedicated to graduate students with lockers, printing facilities and refreshments. The Graduate Room is accessible from 8.00am to 10.00pm (24hrs for students using the Department's overnight accommodation). The Continuing Education Library, also located at Rewley House, has quiet study space and a 'Reading Room'.
Application details
How to apply
Applications for this course should be made via the University of Oxford Graduate Admissions website. This website includes further information about this course and a guide to applying.
Please read our Terms and Conditions before submitting your application.
Entry criteria
Applicants are normally expected to be predicted or have achieved a first-class or strong upper second-class undergraduate degree with honours (or equivalent international qualifications), as a minimum, in any subject.
For applicants with a degree from the USA, the minimum GPA normally sought is 3.6 out of 4.0.
However, in the absence of an appropriate undergraduate degree, sufficient relevant professional experience and/or other educational attainment may be considered as evidence of suitability in some circumstances.
You will also need to:
Have a good working knowledge of email, internet, word processing and Windows applications (for communications with course members, course team and administration).
Provide evidence of proficiency in English at the higher level required by the University (where applicable).
Fees and funding
Fees for the 2024-25 academic year
These rates (in pounds sterling) are for students joining in the 2024-25 academic year and will increase annually.
The annual award fee is due for every academic year (or part-year) attended; module or dissertation fees are due in advance as invoiced. Fees must be paid in accordance with the Terms and Conditions for the programme.
Annual award fee (minimum of two): £2,450
Module fee: £2,055 (per taught module)
Dissertation fee: £6,165 (equivalent to 3 module fees)
Illustration for full programme (completing in two years, with six taught modules and a dissertation):
2 annual award fees: £4,900 (see notes 1 and 2)
plus 6 module fees: £12,330 (see notes 1 and 2)
plus dissertation fees: £6,165 (see notes 1 and 2)
Total = £23,395 (see notes 1 and 2)
Notes
The fee rates listed are for the academic year shown, and you should be aware that these rates will increase annually.
The illustration is based on the fee rates for the academic year shown; however, fee rates for attendance in future years will increase, so students attending for more than one year should expect the total to be higher than is shown in the illustration. The exact amount will depend on the fee rates set annually, and upon the years you are in attendance; these are normally published well before the start of each academic year, but for your own budgetary purposes you may wish to estimate a 5% annual increase on fee rates.
MSt students are matriculated and are full members of the Collegiate University; college fees are included within the MSt programme fees and are paid to the colleges on a student's behalf.
Exceptionally, students may wish to complete the programme within one year. If you plan to take this route, it is recommended that you discuss this with the Course Director in advance to assess the feasibility in your circumstances (please note the minimum 2 annual award fees apply for the one year route).
Scholarships and sources of funding
Details of funding opportunities, including grants, bursaries, loans, scholarships and benefit information are available on our Sources of Funding page.
Further details can also be found on the University's Fees and Funding page.
Modules