The Heat is on for Swifts

As summer finally hots up, swifts abound in Wellington Square and Dr Jocelyne Hughes takes us on walks to raise awareness of a bird species in decline.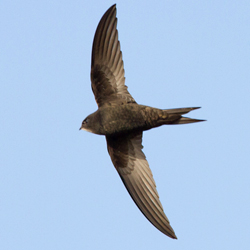 The last few days of June and the start of July saw some unusually hot temperatures for the south of England with a record 41.2C on Wimbledon's Centre Court. At No. 11 Wellington Square, home to OUDCE's Continuing Professional Development team, the front door was propped open, office sash windows were lifted high, and the sounds of swifts (Apus apus) echoed up and down the stairway.
'Swifts are discreet birds and, although they fly around in familiar energetic screaming packs, they enter nesting holes in buildings in a very quiet and fleeting way' Dr Jocelyne Hughes, OUDCE's Programme Director in Ecological Survey Techniques, explains. 'It requires a certain amount of training and concentration to notice birds entering or leaving nest holes.'
At the roof level of Number 11, underneath the eaves, where three years ago swift nest boxes were installed, temperatures would have reached 38C at midday on 1st July. And this year, for the first time, one of the nest boxes is occupied by a pair of swifts. There are two other recorded nests in Wellington Square and there are undoubtedly others that haven't been noticed.
Historically swifts have nested in the tall buildings overlooking the Square as evidenced by David Lack in his famous 1956 book Swifts in a Tower where he mentions the Wellington Square colony. There is currently plenty of screaming activity in the Square, made all the more noticeable in our offices when the windows and door were left open on the day of the heat wave.
Over at the Oxford University Museum, the breeding season had a very late start for the resident colony due to the cool spring weather but there are now 20 active nests and 28 chicks recorded. It's not known how the heatwave has affected the birds, or how extreme weather conditions will affect swifts that migrate to the UK in the long-term.
Swift numbers have plummeted in the last 20 years but thankfully there is a growing awareness of swifts and a desire to do something about their conservation.
Last year Chris Mason, Swift Project Officer at Cherwell District Council, and Dr Jocelyne Hughes teamed up with the University's Estates Services to organise guided swift walks around Oxford. They were a great success and trained university staff to recognise swifts and record their nest holes. These records assist Estates Services in making decisions about new and renovated buildings, so that swift nest sites can be conserved.
This year Jocelyne and Chris have led walks at Oxford University Press, the Oxford Festival of Nature, and University in general. Further walks are planned, two of which will be filmed as part of the Ethno-ornithology World Archive led by Dr Andy Gosler at the Oxford Edward Grey Institute of Field Ornithology. Footage will be available on their website.
'Coordinating our activities across Oxford will raise awareness of swifts and help to conserve them, heat wave or not,' says Dr Jocelyne Hughes
Swift walks are offered during the summer months.
If you have records of swift activity or their nest sites please email Jocelyne Hughes.