New Rewley House Dining and Common Room unveiled

Rewley House's much-loved Common Room and Dining Room were closed for an extended period from mid-December last year through the end of February. It's the first time in 15 years that such a closure has taken place: but students assure us that the result is worth the wait.
Our new facilities were unveiled in March, and just about everything has changed.
In the Common Room, pictured below, students now have a wide choice of stylish seating. Two styles of sofa – the softer red loungers and the firmer, more upright buttoned-leather Chesterfields – are arranged into inviting, conversational groupings. Tables, scattered throughout the room, come with chairs that are either soft 'bucket' seats or upholstered bistro chairs. Tables and chairs are easy to rearrange to suit smaller or larger groups.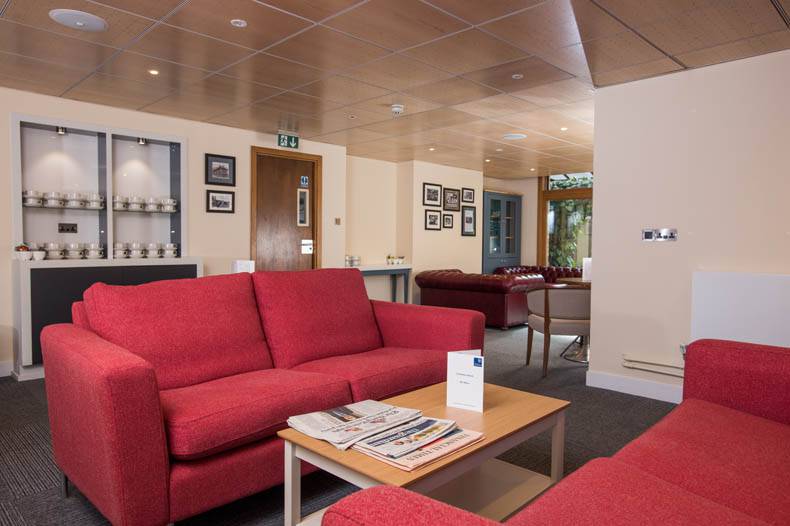 Possibly the most popular new feature in the common room is the newly-installed wood stove (pictured below) – though it's not likely our summer students will need to use it. We were pleased to source the handsome, mid-Victorian, marble mantle in a reclaimation yard nearby, as this is contemporary with the building.
The new fireplace is flanked by bookshelves with books from our library and other collections, to encourage relaxing and reading.
Fresh-bean coffee is now available from the Common Room bar, along with cakes, panini and soup. Our usual selection of soft drinks, wines and spirits are also available, and the bar is now staffed all day.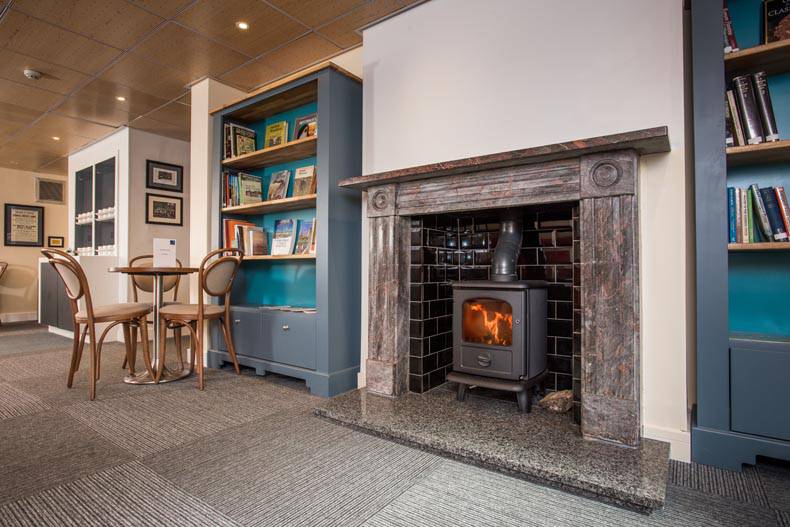 The transformation of the Rewley House Dining Room, pictured below, is equally dramatic. All the room's colours have been lifted and the walls and floors lightened, to give a more spacious and elegant feel. Hand-blown glass globes hang in the atrium as 'feature' lighting; these combine with the natural light and soft, recessed lighting directly over the tables.
A glass panelled folding door featuring a frosted Oxford skyline leads to the refurbished Acland Room. The original parquet floor in this room has been refinished, to great effect.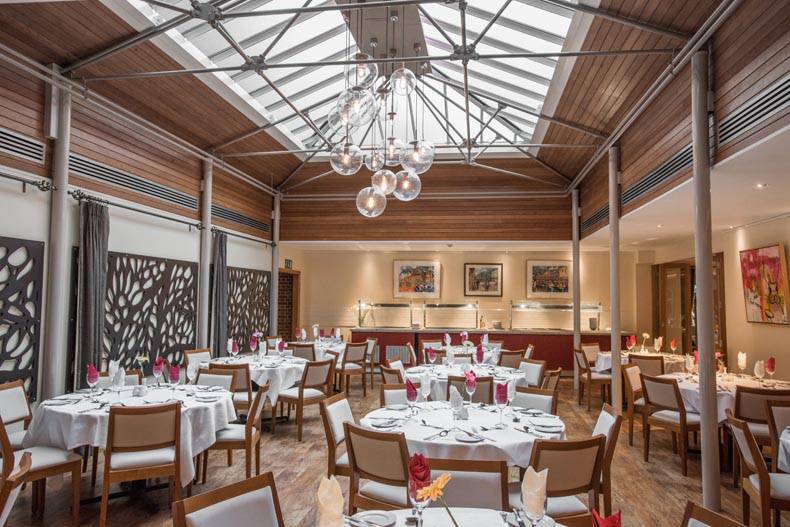 We wanted the wall art in the dining rooms to reflect an Oxford theme, and so we put the word out to local area artists. The dozen pieces that now hang in the rooms show the city and environs from many perspectives and in many different media. Art will be changed periodically, so that the walls will be refreshed and remain a focal point.
The Rewley House kitchen was completely renovated and upgraded in consultation with our team of chefs. As a result of refurbishment we are able to offer greater variety on our menus. The new kitchen layout has streamlined operations, and the all-new appliances are energy-efficient, and environmentally friendly.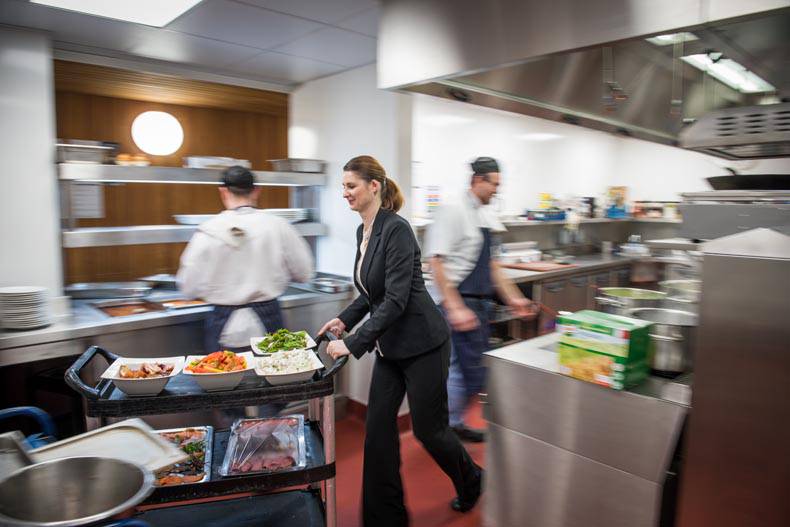 Students on weekly classes and day schools have been enjoying the new facilities since mid-March. We're now looking forward to welcoming our summer students, many of whom visit year on year, and are hopeful that the new facilities will play their part in making this summer at Rewley House a memorable experience!