New research on war-era women weavers

Amidst the troubled years before and during the Second World War, French women designers and entrepreneurs turned to tapestry to express hopes for better days.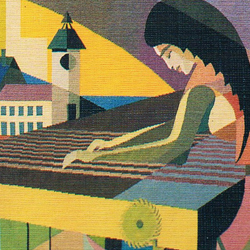 In April, Dr Claire O'Mahony, Director of our Master's in the History of Design, travelled across France on a mission: to rediscover the women who helped to renew the tapestry-making industry of France amidst the economic challenges of the 1930s and the dark days of the Occupation.
'My project explores the largely unexamined role of women in reclaiming the distinctive tapestry techniques practiced in the town of Aubusson on the banks of the Creuse,' said Dr O'Mahony. 'The cartoons and weaving of women designers as well as a network of galleries and studios run by women entrepreneurs were at the heart of the twentieth-century tapestry revival.'
This new dimension in Dr O'Mahony's research into the history of modern French design began with a search amidst the archives of France's state furniture repository in Paris to rediscover works by forgotten women designers. She then travelled to deepen her investigations in the unique tapestry collections, archives and surviving creative industries in Aubusson and nearby Gueret. Her adventure ended with a visit to the opening of a new museum in Soreze near Toulouse devoted to the monk and tapestry designer Dom Robert which also recreates the sounds and equipment of a leading tapestry studio run by Suzanne Goubely.
Said Dr O'Mahony, 'A highlight of the experience was the enthusiasm of archivists and local heritage businesses for the project. Mme Giraud of the Museum of Tapestry and M and Mme Hawaii of the Hotel le France and Maison du Tapissier in Aubusson; Mme Lerable of the National Furniture Depository in Paris eagerly joined in the effort to bring these women's lives and labours back into the light. My hope is to disseminate this fresh research not only through a collective academic publication with six other women historians from universities from across Europe, but also through an Oxford Alumni Weekend talk on 19 September and a pedagogic website making the arresting materiality of modern tapestry and the women's history to which it attests tangible to a much wider audience.'
Dr O'Mahony's research was funded by a grant from TORCH (The Oxford Research Centre in the Humanities), as part of their Woman in the Humanities initiative, which seeks to bring together women academics at all stages of their careers to discuss their work on gender and to support female researchers working in the field.
In 2010, UNESCO honoured the weaving centre of Aubusson with the status of an Intangible Culture World Heritage Site. The Museum of Tapestry will be re-launched in Aubusson's refurbished decorative arts school next year.
Image: Aubusson tapestry designed by Bernard Ronfaut 2012
Learn more: