New part-time DPhil in Sustainable Urban Development

The University of Oxford has launched a new part-time DPhil (PhD) in Sustainable Urban Development, aimed at leaders and decision-makers worldwide tackling the multi-disciplinary challenges of urbanism and sustainable development.
Cities have become the central platform for sustainable futures on the international stage, and must adapt to the immense pressures presented by climate change, poverty, economic shifts, technology, demographics and migration, conflict and competition for limited resources and energy.
The new part-time DPhil in Sustainable Urban Development, aimed at current professionals, will present opportunities to engage with cutting-edge Oxford researchers, and to follow these rapidly evolving issues to an advanced level, enabling fresh analysis, expertise and insight to channel back into innovative practice.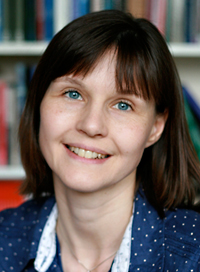 DPhil Director Dr Johanna Waters (pictured) comments: 'We are looking for bright, passionate, and motivated individuals to pursue topics of professional interest through a research degree. We are seeking individuals for whom part-time study at doctoral level would complement and enhance their professional practice, bringing to it an important intellectual perspective.'
The DPhil will appeal to those that will have gained a first rate MBA, LLM, MSc or other higher degree in a related field. Successful candidates can expect to craft a research proposal, which they will then implement through a period of intense field-work and data gathering, before analysing their results and presenting their thesis.
'The DPhil Programme will involve extensive, in-depth research and engagement with a range of academic sources,' says Dr Waters, 'the ultimate aim is to advance the field of research in sustainable urban development and to change the way in which urban spaces are engaged with in practice.'
In conjunction with the DPhil, the flagship part-time MSc in Sustainable Urban Development combines industry and academic expertise to create unique, cross-disciplinary collaborations between leading University of Oxford scholars and industry experts. The MSc is delivered in partnership with the Prince's Foundation for Building Community and is recognised under the Royal Institution of Chartered Surveyors University Partnership.
Staff, students and alumni from the Sustainable Urban Development Programme reflect upon and discuss sustainable urban development in a recent video commissioned by the Department for Continuing Education, where the programme is offered.
For further information:
Published 21 November 2014