Making History at Continuing Education


The mid-1990s were a time of 'firsts' for Continuing Education at Oxford.
Looking at the number of award and degree programmes we offer today, it's hard to believe that hardly any of them – and all the opportunities they represent for part-time students to study for recognised Oxford University qualifications – existed 25 years ago.
This term – Michaelmas 2018 – marks the 25th anniversary of the start of the first graduate degree specifically designed for part-time students at Continuing Education and Oxford University. The Master's in English Local History was followed two years later by a ground-breaking part-time DPhil option.
Both programmes were planned and implemented from the start by the former Director of Studies in Local History, Dr Kate Tiller, who built links with the University's History Faculty.
Dr Tiller racked up a few more 'firsts' during the course of her career: she was our first female Academic Dean, and the only female among the 11 founding fellows of Kellogg College in 1990 (where she later became Senior Tutor and Vice President).
A new academic field of study
Back in 1993, the freshly-defined academic field of local history was considered by Oxford University to be a prime candidate for developing graduate level work in a continuing education setting. Individuals and groups interested in their localities and personal histories had become a boom area of historical interest from the 1950s onwards.
The new Master's and DPhil programmes, where students learned research tools like document analysis, field walking, hedgerow dating and map analysis, were just the beginning. An undergraduate certificate, weekend classes and summer schools sprang up, and, most innovatively, an early online course, Continuing Education's Advanced Diploma in Local History. For many students, this Advanced Diploma was the starting point that got them hooked – and they then progressed through the Master's and then the DPhil, all part-time.
Applicants ranged from police officers to museum workers
The first applicants to study English Local History at Continuing Education were largely mature students who were strongly motivated by personal and intellectual interest, some changing tack from earlier careers (including several senior police officers).
Some wanted to make up for a lack of higher-level study opportunities earlier in life. There were also younger scholars, some who already worked in local history professions - teachers, and people in the museum or 'heritage' sector. Students came from all over Britain as well as from overseas, especially the USA and Canada.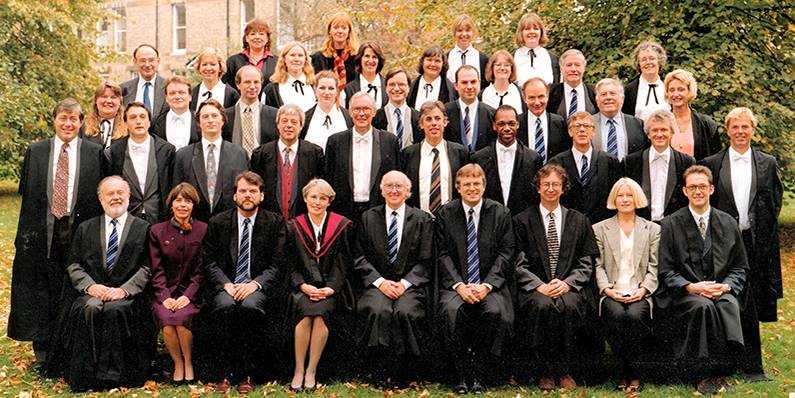 Photo caption: An early matriculation group in Wellington Square, 1995 with many of the students joining the Master's in English Local History
Their research during their studies led to the creation in Oxfordshire and surrounding counties of all kinds of local archives, exhibitions, publications and societies. But the course is not just about what's local to Oxfordshire - current DPhil students are researching Snowdonia, Bodmin Moor and Yorkshire. And from Anglo-Saxon place-names to 20th century council housing, the range of periods and topics students research is ever-expanding.
A diaspora of alumni have done further research and published work, played leading roles in local societies and organisations, and gone into teaching - some even tutoring on the Master's themselves. The Oxford graduate programmes in Local History are nationally known.
A reunion of graduates of the Master's and DPhil in English Local History was organised at Rewley House on 28 October 2018.
Kate Tiller, pioneer
After doctoral work at Birmingham University on post-Chartist working-class politics, Dr Tiller arrived at Rewley House in 1979 to embark on a five-year post, charged with developing the Department's local history programmes. In 1984 she was appointed to a newly-established University Lectureship in Local History and in 1999 she became Reader in English Local History.
During the 1990s, Dr Tiller was inspired to launch the Master's and DPhil by the increasing recognition in academia of the evidence of history around us, documentary and oral, built and environmental. There was vast potential for original and valuable research.
Today Reader Emerita in English Local History, Dr Tiller has had a trailblazing career – she secured practical support for part-time students and, in particular, was a pioneer as a woman. She was Continuing Education's first female Academic Dean in 1997, the only female among the 11 founding fellows of Kellogg College in 1990 (where she later became Senior Tutor and Vice President), and one of only two women on Continuing Education's directorate. There were many fewer women as full-time academics in those days, Dr Tiller reflects today.
Dr Tiller's main research and teaching interests are British social and local history since circa 1750, especially English rural change, religion and community, and the academic practice of local history. She's currently working on 20th century local histories, focusing on First World War remembrance and community; she's research director for a project on Communities of Dissent (the significance of Nonconformist chapels and chapel life in English and Welsh communities) with the Family and Community History Research Society; and she's writing an updated, third edition of her text book English Local History: an introduction (to be published by Boydell).
Living near Wallingford, Dr Tiller enjoys many community connections in Oxfordshire and, since 2004, being Deputy-Lieutenant for the county. A keen sports fan, she was elected to the Committee of Oxford University's Rugby Football Club in 2001, its first woman member, and went on to be its Chair in 2017-18; now she is the club's Honorary Life Vice-President.
Most recently, Dr Tiller's achievements have been recognised in her being appointed as OBE in the New Year's Honours 2019 – for services to local history.
She happily remembers the last 25 and more years as 'a mix of welcoming, being stretched, expanding skills and understanding, the Oxford factor, the fun, and the continuing friendships and contacts.'
Published 29 December 2018