Joyce Leech Prize Awarded

Students Susan Knights and Marie Harrison have been awarded the inaugural Joyce Leech Prize.
The prize is awarded to the student (or students) on the Foundation Certificate in English Literature deemed by examiners to have been awarded the highest marks on their first year of the course. The Prize, named after benefactor Joyce Leech (a former student of the Foundation Certificate) is given to mark and celebrate Joyce's enjoyment of many years of Continuing Education.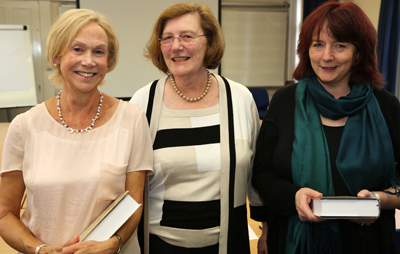 Pictured are Joyce Leech, benefactor, with Susan Knights (left) and Marie Harrison (right)
This year's awards were presented at a reception taking place during the Foundation Certificate's Shakespeare Summer School, on 19 September.
The Joyce Leech Prize takes the form of a cheque in the amount of £250, along with the gift of an appropriate book or books, valued at £50. This year's two winners received equally high marks, and will divide the prize between them.
Award recipient Sue Knights said, 'It is a measure of the high regard in which this course is held that a former student has kindly and generously established this prize, which I am delighted to receive.
'The course also brings its won rewards. For me, the chance to study a subject I love in a challenging way has been invaluable. The excellent quality of the teaching, the ability to develop thoughts and skills, the camaraderie of my fellow students, had all added to the experience. It has been an affair of the heart and mind, and I'm looking forward to the fun of year two.'
Marie Harrison said, 'The Foundation Certificate in English Literature has been a stimulating, challenging experience thus far and I am greatly looking forward to the second year. The value offered by the course is enormous: not only do we receive teaching from experts in the field who are also sensitive to the needs of mature students, but we have access to the full range of undergraduate lecture in the English Faculty at the University. In addition to this, the Bodleian libraries offer unparalleled resources for learning. What more could a student of English Literature want?'
For more about the Foundation Certificate in English Literature, please see: www.conted.ox.ac.uk/fcel
Another student on the Foundation Certificate in English Literature, Sandra Young, talks about the course in a feature entitled 'Wake-up Call' in the October 2014 edition of Good Housekeeping magazine: www.conted.ox.ac.uk/wakeupcall
Published 20 November 2014