First step toward scholarly edition of Wilberforce diaries

Dr Mark Smith, Director of Studies in Local History has been awarded a John Fell Fund grant to produce a transcription of the diaries and journals of William Wilberforce.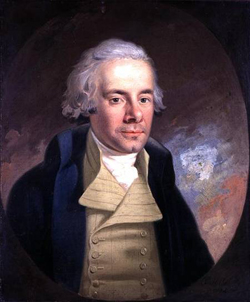 William Wilberforce was a politician, philanthropist and leader of the abolitionist movement in the late 18th and early 19th centuries. He was also a prolific diarist - penning an estimated half million words over his lifetime, and recording approximately 50,000 more in a series of smaller 'religious journals.'
These writings were never intended for public consumption - and it is this very fact that makes them so valuable to scholars.
Wilberforce's private writings offer a candid insight into his private world and times: his family, friends, workload, health, diet, travel, reading, and piety. Additionally, the diaries serve as a record of the places, people and meetings through which he helped build an empire of voluntary associations.
The problem of penmanship
The main barrier that has prevented scholars from making full use of these valuable resources is Wilberforce's handwriting. The diaries are written in what Dr Smith calls 'a difficult hand, especially tricky to decipher'.
A second obstacle is the sheer volume of writings Wilberforce produced.
'Creating an edition of these diaries is not feasible on a reasonable timescale for a lone scholar,' says Dr Smith, 'but I have now assembled a team who will work together on the project. Professor John Wolffe of the Open University and Professor John Coffey of Leicester University have agreed to participate.'
Only the first step

The John Fell Fund grant, which will support the creation of a transcript of about half of the diaries, is being seen by Dr Smith as the beginning of a larger project.
The ultimate goal is the production of a definitive scholarly edition of the complete diaries and journals of William Wilberforce in a multi-volume print edition and online.
Such an edition would be supported by a full set of notes (especially on the individuals mentioned in the diaries) and an analytical introduction. The hope is that this full edition might be submitted for publication by December 2020.
This initial transcription phase will serve to provide evidence that the project is practicable; it will also give a clear idea of any additional resources required for the road ahead.
A valuable resource for a wide range of scholars
Says Dr Smith, 'A full scholarly edition will shed light on a number of key political episodes in which Wilberforce was involved between the 1780s and 1820s and be a key source for the social and religious history of the same period. The diaries are also a cultural document of prime importance. Wilberforce used diary-writing as a technology to discipline and reshape his inner life. Because we possess the entries he kept before his religious conversion, we can witness the forging of an Evangelical self, as a young Georgian man-about-town is painfully reborn as one of the fathers of the Victorians. For this reason, the diaries and journals epitomise a much larger cultural transformation, one that continues to interest and perplex historians.'
The value of Wilberforce's diaries extend beyond the fields of social history, political history and religious studies. The edition will also interest scholars of English literature concerned with life writing, as well as social scientists interested in topics such as the practice of philanthropy, the formation of social capital and voluntary organisations.
-----
Dr Smith is director of our Master's in English Local History
Read more about Dr Smith's research