Extending Oxford: Sandie Byrne's Academic Diary


Our academic staff at Oxford Continuing Education are committed to bringing Oxford teaching and research to the widest possible audiences – and for Dr Sandie Byrne, Associate Professor in English Literature & Creative Writing, the past year has been an exceptionally busy one.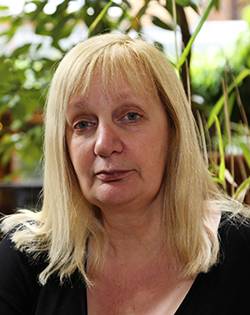 Several of Sandie's research interests reached significant milestones in the past year. November 2016 marked the centenary of the death of author HH Munro (Saki) in World War One. Poet Tony Harrison's 80th birthday took place in April 2017, and July of 2017 marked the 200th anniversary of the death of novelist Jane Austen.
Far from the 'ivory tower' stereotype of academic life, Sandie spent much of the past year on the road – speaking and teaching in London, Devon, Exeter, Scotland, and even in Chile – all on top of her usual teaching and supervisory work here at the Department.
Read below her account of what it is to be an academic in commemorative times.
H H Munro (Saki)
'This time last year, in September 2016, I recorded an interview for the BBC Radio 4 Extra programme. Shaun Ley and I toured the house in Pilton, Devon, in which the author H H Munro, (Saki), lived after being sent to England from his birthplace in Burma. It was here that he was brought up by his gentle grandmother and fierce aunts, after his mother was killed by a runaway cow when he was two years old.
'Hector Hugh Munro was a foreign correspondent, historian and novelist. But he is best known under the pen name Saki for his dark short stories, which draw on his time in Devon.
'The programme was broadcast in November, near to the anniversary of the death of Hector Hugh in 1916. His famous last words were 'Put that bloody cigarette out!', after which he was shot by a German sniper.'
Tony Harrison
'In April 2017 I gave a paper, 'Metre and Memory' at the British Academy in Carlton House Terrace, London at a conference 'New Light on Tony Harrison' celebrating the poet's 80th birthday.
'Harrison has long been considered one of the most important poets of the twentieth and twenty-first centuries. He is best known for his controversial film poem v. - but his work ranges from poignant elegies to blistering political and social interventions.
'The speakers at 'New Light on Tony Harrison' included Blake Morrison, Simon Armitage, and Peter Symes. The proceedings of the conference are to be published in a collection edited by Prof Edith Hall.
'Later that spring I published a chapter, 'Representations of Senescence in Tony Harrison's Black Daisies for the Bride' on Harrison's documentary film-poem Black Daisies for the Bride in a collection, Autumnal Faces, about representations of old age in the media.
'"Poetry is all I write", Harrison famously says, but some of his poems have been written for the stage and for the large and small screen, and he has made the genre of poem-documentary his own. The essays are available in the published book.
'In September 2017, I wrote a blog post for the OxfordWords blog series on Tony Harrison and language, class, and 'High' culture: 'Them and [uz]: Tony Harrison and the language of inclusion and exclusion'
'And on 16 September 2017, I spoke at the Oxford University Alumni Weekend on 'Tony Harrison: Metre, memory and class'.
Jane Austen
'There have been many events, publications, and exhibitions recently about Jane Austen, as this year is the 200th anniversary of her death.
'In February of 2017 I gave a talk on Austen and Shakespeare to the Jane Austen Society at their annual study day in University College, London. In the talk, 'Exit Pursued by Gypsies: Domestic and Wild Spaces in the work of Jane Austen and William Shakespeare' I argued that looking at some of Austen's fiction as pastoral comedy can explain some seemingly incongruous events. In June, I delivered a talk, 'Persuasion in Persuasion', at a day conference with the Jane Austen Society West Country branch in Exeter.
'This summer I spent four days in Santiago, Chile, as the guest of the oldest Spanish newspaper in South America, El Mercurio. I gave talks about Austen at the newspaper's annual cultural event, and at Santiago universities.
'El Mercurio runs a cultural event each year - they've had a lot of different subjects: film, writing, even the editor of Rolling Stone. I don't think that there is any particular connection between Austen and Chile - other than that I was told that it is a relatively conventional culture which respects marriage. Austen's appeal is so widespread, though, that they were expecting 80 people for the audience but got about 250. I talked about the way in which I see Austen's work as far less romantic than we might expect, and more pragmatic and unsentimental. The talk is posted online in English and in Spanish.
'The audience clearly spoke and read English fluently. They followed my talk and had interesting and insightful questions to ask. They have very sweetly said that I should go back next year; if I did I would hope to see the Atacama Desert, or the beautiful south of the country.
'This trip I had very little free time, sadly, so I wasn't able to see as much of the country as I would have liked. I visited the University of the Andes and the British University of Santiago, and I got to visit one of the houses of Pablo Neruda. I stayed in the transit flat of the British Embassy, and had the honour of meeting the British Ambassador to Chile and her husband. I was delighted to find that they have a home in Bath, a city with many Austen associations.
'A few days after I arrived home from Chile I was off to Bute in Scotland, on Continuing Education business.
'And in September at Rewley House in Oxford I took part in our Departmental Open Day. My talk, '"Influenced now by nothing but the most mercenary motives" - Jane Austen's Money', explored how Austen's nephew stated that his aunt 'wrote for her own amusement', but that Austen's letters tell another story.'
And in her 'spare time'?
Sandie teaches on our Master's in Literature and Art, our Foundation Certificate in English, and on two of our summer schools: the English Literature and Creative Writing Summer Schools. She organises, chairs and speaks on our day schools and teaches weekly classes. Additionally, she supervises graduate students.
Sandie was nominated for an Oxford University Student Union Teaching Award in 2017 in the 'Outstanding Tutor' category.
Publishing during the past year included a chapter on poetry and class in Edward Larissy, ed., The Cambridge Companion to British Poetry, 1945-2010, and a chapter on satirical stories: 'Satire and Social Critique', for The Cambridge History of the English Short Story, published by the Cambridge University Press
Forthcoming chapters are 'Innovation' in The Cambridge History of Poetry of the First World War, and a longer version of her talk for the 'New Light on Tony Harrison' conference. She is currently bringing together a collection of essays on Harrison's work and Classical literature, and is writing a book on poetry and class since Piers Plowman.
Learn more:
Published 14 September 2017