Data scientist takes Shakespeare on the road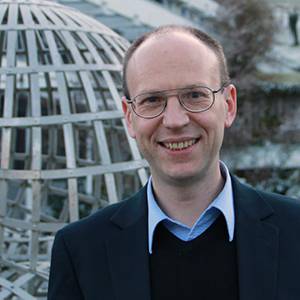 Cezar Ionescu will travel to Witney on 14th December to deliver a Shakespeare lecture to year 12 pupils at the Henry Box School.
How, you might ask, does someone whose research interest include functional programming, scientific computing, algorithmic thinking and synthetic populations wind up speaking on Shakespeare?
Cesar's talk for our 10th September open day was 'The notion of proof in Shakespeare's Othello'. He describes it as a not entirely tongue-in-cheek investigation of Shakespeare's views on the possibility of rational thought. In Othello, the word "proof" occurs more frequently than in any other play in the canon.
'Shakespeare gives us a powerful description of the many traps that human judgement can fall into,' says Cezar. 'The only chance we have is in the company of others, based on mutual respect, tolerance, good will. It is the same in mathematics, where the myth of the isolated mathematical genius is just that: a myth.'
Among the attendees for this talk during our September open day was English teacher Joanna Woodbury, from the Henry Box School in Witney, who asked if Cezar would be willing to take the show on the road.
'I am looking forward to this first contact with the local schools,' says Cezar. 'I hope there will be many more to follow!'
Courses for 2016-17 which are either tutored by or overseen by Cezar, who is our Director of Studied in Computing and Mathematics, include:
To learn more about Cezar and his research:
Published 17 October 2016