Creative and academic writing 2017

A spring round-up of recent writing by students on our Diploma in Creative Writing and the Master's in Creative Writing, as well as academic publishing.
Novels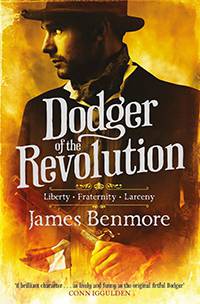 A former student on our Diploma in Creative Writing course, Rachel Crowther has written her third novel Every Secret Thing, due to be published in June 2017 by Zaffre. Fay Weldon describes it as a 'wonderful page turner of a novel about the complexity of female life, by a new writer who understands it all too well.'
MSt alumnus James Ellis has written his first novel The Wrong Story, which has now been published by Unbound. This imaginative tale is about a cartoonist who falls from a car park roof, waking to find himself with partial amnesia, while believing that his characters' lives are more real than his own.
MSt alumnus James Benmore has published his third book in his 'Dodger' series, Dodger of the Revolution, which imagines the Artful Dodger travelling to revolutionary France during the Paris Uprising.
A book launch and discussion with James Benmore will take place a Oxford's Albion Beatnik Bookshop on Friday 21 April at 7.30pm - all are welcome.
Kiran Millwood Hargrave has been named the winner of the Waterstones Children's Book Prize 2017 for her debut novel The Girl of Ink and Stars (Chicken House). James Daunt, Waterstones managing director, said: 'We have a sensationally good winner, a work of imagination and drive that will command a special place on the bookshelves of many generations of readers to come.' Full details on The Bookseller website.
Academic publishing - highlights
The Director of the Department for Continuing Education, Professor Jonathan Michie, has co-edited a new volume which investigates all types of 'member-owned' organisations. Published by Oxford University Press, The Oxford Handbook of Mutual, Co-operative, and Co-Owned Business, also features an essay by Jonathan, titled 'The Importance of Ownership'.
A new book, An Introduction to Population-level Prevention of Non-Communicable Diseases, produced by the Nuffield Department of Population Health, and is based on teaching materials and students' case studies from the Department's Prevention Strategies for Non-Communicable Diseases (NCDs) programme.
Dr Tara Stubbs has co-edited a new collection, published by Routledge, titled Navigating the Transnational in Modern American Literature and Culture.
Dr Stubbs' first book, American literature and Irish culture, 1910-55: The politics of enchantment, published by Manchester University Press, has now been printed in paperback.