Continuing Education Open Day 2015

The Department's fourth annual Open Day event took place on Friday and Saturday. 25-6 September. We welcomed approximately 500 people to Rewley House to enjoy walking tours, short lectures, creative writing workshops and more, and were joined online by viewers from the United Kingdom, the United States, Italy, Japan, Greece and elsewhere.
Two days this year
This year we enhanced our Saturday programme to focus on the needs of new students and those hoping to progress into award courses. Sessions designed to enhance study skills, such as 'Improve your Writing Skills', 'Preparing for Study' and 'Making the Most of the Internet' proved very popular, as did the drop-in session hosted by our new Access Officer Sarah Platt, who answered questions on fees and funding of study, bursaries, support for students with disabilities and progression of study.
Bringing the Open Day home
A variety of sessions were broadcast live on the day, giving viewers around the globe the opportunity to take part. Many of these sessions are now available for you to watch online by visiting www.conted.ox.ac.uk/openday
View presentations from Friday's schedule
Magna Carta: The First Clause by Dr Elizabeth Gemmill
Bad Science! By Dr Ben Goldacre, chaired by Professor Carl Heneghan
Freud and Pastor Oskar Pfister: Unlikely Friends by Dr Alistair Ross
William Morris: design for living by Dr Antony Buxton
The Raj at War: A People's History of India's Second World War by Dr Yasmin Khan
Discoveries in Theology and Religion: Middle Eastern Christianity explored! by The Rev'd Canon Dr Robin Gibbons
View presentations from Saturday's schedule
Enter a rabble of plebeians! Social disorder in Shakespeare's England by Dr Jonathan Healey
Biomimetics and what we can learn from animals by Dr Thomas Hesselberg
Preparing for study, with Dr Yasmin Khan and Dr Tara Stubbs
The coming of the railway to Oxford by Liz Woolley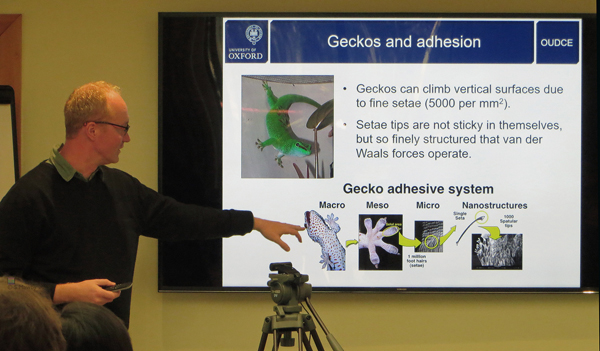 Thank you
We at the Department greatly enjoy our annual opportunity to open our doors and show what we can do. Thank you to all who were able to attend and for contributing your enthusiasm to what we think of as our annual 'higher education party'.
Photo: Dr Thomas Hesselberg presents a session on Biomimetics. Photo courtesy of Sheila Mawby.
Published 22 October 2015