British Ecological Society funding awarded for Wytham Woods workshop

Funding has been awarded to the Department's Environment and Sustainability Programme by the British Ecological Society (BES) to support the delivery of a one-day Woodland Ecology and Management workshop held at Wytham Woods.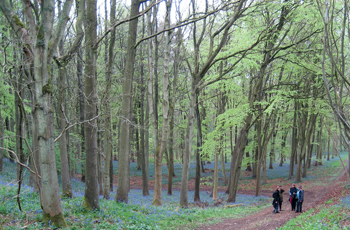 BES sponsorship will enable the workshop to be delivered with a significant subsidy with further special rates for currently registered students and charity workers.
'It is fantastic that the British Ecological Society has supported this training course,' explains Dr Jocelyne Hughes, the academic organiser and director of the Ecological Survey Techniques Programme. 'This funding enables us to make the training accessible to as wide a range of people as possible.'
Set in Wytham Woods - Oxford's 'living laboratory' - the workshop will offer a unique opportunity to explore woodland ecology and management in one of the world's most widely researched areas of woodland. The expert tutors, Dr Keith Kirby, who was presented with the 2014 CIEEM Award for his 'lifelong contribution to the advancement of woodland management', and Mr Nigel Fisher, the conservator of Wytham Woods, will give an unparalleled insight into the woods.
'Woodlands are important to everyone - for recreation, for science, for wood products and of course for wildlife,' says Dr Hughes. 'Teaching the next generation how woodlands tick and how to manage them is fundamental to their survival.'
For more information about Woodland Ecology and Management please contact us on envman@conted.ox.ac.uk and +44 (0)1865 286953.
Published 17 February 2015