Symbolist Objects: Materiality and Subjectivity at the Fin-de-Siècle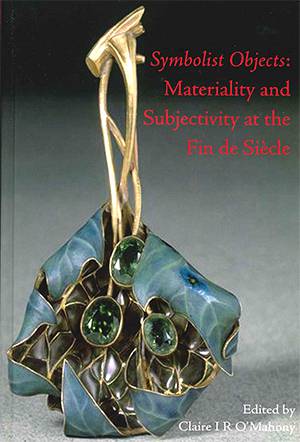 This interdisciplinary volume, edited by history of art academic Dr Claire I. R. O'Mahony, explores the intersections between Symbolist aesthetics and material objects and interiors.
Fourteen international scholars examine these debates from the overlapping perspectives of the disciplines of literary studies, the history of art, design and visual culture and aesthetic philosophy. Five thematic sections apply a spectrum of approaches to visual and literary case studies from fin-de-siècle Europe.
The book opens with analyses of the interiority articulated through the domestic environments of Comte Robert de Montesquiou and Oscar Wilde. The second section juxtaposes four engagements with the artful page and the 'book beautiful' devised by Stéphane Mallarmé, John Gray, William Morris and Alfred Jarry. The third cluster of essays considers art works and spaces by Fernand Khnopff, Puvis de Chavannes and René Binet which took on talismanic status at the fin de siècle. By contrast the interventions in the fourth section explore the gendered tensions between preciousness and consumer culture in the writings of Villiers de l'Isle-Adam, Joséphin Péladan and Georges Rodenbach, and both Rachilde's evocations of, and René Lalique's designs for, jewellery.
The collection concludes with meditations on the legacies of Symbolist aesthetics within the work of Robert Motherwell and contemporary installation art. The anthology, published by Rivendale Press, is of special interest to fin-de-siècle scholars, and is accessible to a more general readership.
Researchers