Tutor profiles

Ben Turney
Course Director
MA (Cantab), MB BChir (Cantab), MSc (Oxon), DPhil (Oxon), FRCS (Urol), PGDipLATHE

I am a Senior Clinical Researcher at the Nuffield Department of Surgical Sciences, University of Oxford. Since 2007, I have led the Oxford Stone Group which has examined many aspects of stone disease and its management. I have lead collaborations with multiple departments in Oxford University.
I have a clinical interest in endourology: particularly the treatment and prevention of kidney stones and benign prostate enlargement (BPE). I am an elected member of the British Association of Urological Surgeons (BAUS) Section of Endourology Committee. I am managing partner of Oxford Urology Associates.
Current interests include:
Design and evaluation of new endourological surgical technology.
Evaluation of shock wave lithotripsy outcomes and patient experiences.
Metabolic profiling of patients with kidney stones.
Epidemiology and genetics of kidney stone disease
Prof Richard Canter
Associate Director
Module lead: Leadership and Management in Health Care

Richard Canter qualified in medicine at the University of London in 1976, before becoming a surgeon at the Royal United Hospital, Bath. He completed a PhD in Management at the University of Bath in 1998 studying the nature of power in decision-making at the personal and organisation level in healthcare. Following the critical Kennedy report on surgical training in 2001, he was recruited to the Royal College of Surgeons of England as Deputy Director of Surgical Education with specific responsibility for curriculum development in surgical education in England. He was subsequently Head of the Postgraduate School of Surgery in Bristol until 2012, after which he concentrated on academic work at Oxford University. He was appointed a visiting Professor in the Nuffield Department of Surgical Science in 2007, Emeritus Consultant at Oxford University Hospitals in 2015, Associate Fellow at Green Templeton College, Oxford in 2015 and Hon Research Fellow in the Department of Education in 2019.
Tom Revington
Module lead: Quality Improvement Science and Systems Analysis

Tom Revington obtained first class honours in Biochemistry at Oxford University before serving in the UK Foreign and Commonwealth Office engaged in policy development, conflict resolution and inter-governmental negotiations. After a period as deputy head of political office in Istanbul he led a team producing financial, economic and political analysis of EU countries responding to needs of senior officials and ministers at Treasury, Bank of England, Financial Services Authority and the Prime Ministers Office. He was responsible for the Prime Minister's personal briefing service at quarterly European Council meetings of EU leaders and the Chancellor's personal briefing service at monthly meetings of European Finance ministers.
A change of career led him to complete a Postgraduate Certificate in Economics (distinction) at Birkbeck College, University of London and later to a MSc (distinction) in Psychology at the University of East London. From 2004-2012 he was a consultant at McKinsey & Company where his work included support for quality improvement programmes in hospitals and community healthcare providers, as well as designing and delivering leadership programmes for NHS Chief Executives and for clinical leadership teams. Other work included a strategic review of a children's charity in Saudi Arabia to identify options for improving the life chances for 20 million children. He now runs a successful management consulting and leadership development practice working with clients in healthcare, education and professional services.
Matt Gardiner
Module lead: Healthcare Innovation and Technology

Matt Gardiner is an academic plastic and hand surgeon. His research interests include wearable sensors and device innovation for the treatment of common hand conditions. He co-founded the Reconstructive Surgery Trials Network and is the RCS Surgical Specialty Lead for Plastic and Hand Surgery trials. He sits on the steering committee for The COHESIVE study: Core Outcomes for early pHasE Surgical Innovation and deVicEs.
Jeremy Noble
Module lead: Becoming a Clinical Educator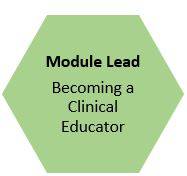 Jeremy Noble is a Consultant Urological Surgeon to Oxford University Hospitals Foundation NHS Trust, an Honorary Clinical Lecturer to the University of Oxford and Associate Dean. He trained in urology in London and Reading and now forms part of a consultant team sub-specialising in lower urinary tract dysfunction, reconstructive and female urology and stone disease.
His research interests include the overactive bladder and benign prostate disease and he has a particular interest in the medical management of bladder dysfunction and benign prostatic hyperplasia.
He is heavily involved in medical training. He has been Head of the Oxford School of Surgery and regional training programme director for core surgery and urology for HEE Thames Valley. He has been a member of the SAC in Urology, a member of the Core Surgery Training Forum at The Royal College of Surgeons, intercollegiate examiner for the FRCS Urol examination and latterly a panel assessor for the Intercollegiate Examination Board. Jeremy is currently Associate Dean for HEE TV with an interest in workforce planning and transformation.
Helen Higham
Module Lead: Human Factors, Teamwork and Communication
Dr Helen Higham is a Consultant Anaesthetist at the John Radcliffe Hospital in Oxford. She is an Associate Professor in the Nuffield Department of Clinical Neurosciences and Director of the Oxford Simulation, Teaching and Research Centre (OxSTaR) which opened in 2008She is a founding member and past president of the Association for Simulated Practice in Healthcare, a UK organisation promoting simulation for use in training and healthcare systems analysis
She has always had a keen interest in medical education and has been the Director of Undergraduate Teaching in the Nuffield Division of Anaesthetics since she took up her post in 2001. In 2015 she co-founded the Patient Safety Academy (with Professor Peter McCulloch) with the primary aim of providing courses on human factors and quality improvement for healthcare professionals across Thames Valley and beyond.
Helen is also active as a researcher and in 2018 completed her DPhil investigating the significance and impact of situation awareness in medical practice. She heads an active research group including four DPhil students, two post-doctoral researchers and four simulation fellows, with specific interests in patient safety, clinical education and teamwork in healthcare.