Online courses: A comparison of free vs fee

Online education is nothing new, but in recent years the form has evolved to produce a new species known as the MOOC, or 'massive open online course'.
MOOCs are popular: they're usually free of charge, created largely by Universities, contain good teaching, and attract a very broad international following. But what are the main difference between these offerings and the Department's online courses?
Massive numbers, small numbers
The main difference is in the numbers of students involved. Student enrolment on MOOCs is very large: often hundreds of thousands of students enrolled per course - hence the term 'massive'. (To get a visual idea of size, picture Wembley Stadium - which holds a mere 90,000.) These large numbers inevitably place limitations on the students' experience, affecting the quality of discussion, the tutors' ability to interact with students, and the means of assessment.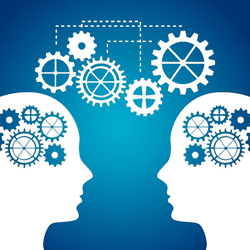 By contrast, the Department crafts the online experience to be like a traditional classroom. Student numbers per class are kept small. This small community enhances the learning experience. Students are able to take part in in-depth discussion; personalised tutor guidance, feedback and support are also key feature of these small environments. The highly international make up of student cohorts means there is always a great breadth of perspective brought to bear.
Essay or multiple choice?
Because of their large numbers of students, MOOCs typically make use of multiple choice quizzes to assess the students' attainment of knowledge, while Oxford courses assess via written essay.
Essay assessment is thought to be advantageous on several levels. Students using our courses as preparation for further study, for instance, will benefit from the experience of writing for academic purposes; those who are studying for pleasure inevitably find that distilling their knowledge for another to read tends to help them clarify their arguments, and makes what they've learned 'stick'. With a choice of between 4 or 5 set topics, students are able to tailor the essay experience to fit their interests.
Accreditation
Another huge difference is that MOOCs don't offer transferrable CATs points or credits, while Oxford's online short courses are all accredited. Credits can be transferred into our Certificate of Higher Education, and they are accepted at many other universities.
The social element
Due to the small class size, students who meet on our courses often stay in touch, and sign up for future courses together. (Compare this to MOOCs, which have an up to 90% drop-out rate.) The Department's busy Facebook group, open to all alumni of our online courses, currently has over 2,000 members.
Personal connections extend beyond the course as well, resulting in both 'offline and online' social visits and collaborations. One student, as a result of a discussion of artwork, famously visited a museum near her home in Florence, purchasing postcards of specific pieces under discussion, and scanning and uploading them so that the discussion might carry on at greater depth.
Price
Price is another notable difference. The Department's online courses charge fees, while MOOCs are usually free, or charge a nominal fee in exchange for a certificate of completion (not the same as transferrable credit.)
The fees we charge pay for our tutors, for the individual support and feedback they give to students. Our courses have a high number of tutor/student contact hours, while MOOCs, by their nature, usually have little or none. Think of a hand-crafted product as opposed to one that's mass produced: that old adage - you get what you pay for - rings true in online education.
The Oxford perspective on MOOCs
Oxford University Pro-Vice Chancellor of Education Sally Mapstone describes the MOOC approach as the 'antithesis' of Oxford's vision of pedagogical excellence, and says the university has no intention of adopting the model anytime soon.
Quoted on the ABC news site (Australia), Professor Mapstone said, 'So much of the education that we deliver is very individual, very personalised for the tutorial system... sitting in a room with a tutor, teaching them on a regular basis, getting to know their work and them really well. That's a very long way away from a massive open online course distributed across the world to global learners.'
'MOOCs are a supplement potentially to university education, they shouldn't be seen as a substitute for it.'
The student experience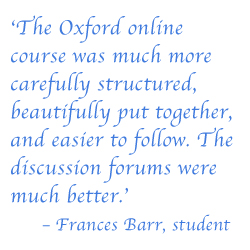 Student Frances Barr has taken both types of courses. She took our Archaeology in Practice course, and followed it with the 'Portus' MOOC offered by the University of Southampton.
'The Oxford online course was much more carefully structured, beautifully put together, and easier to follow,' she said. 'The discussion forums were much better, with whole threads developing, and the strategic input of Wendy, the tutor. The assessments were also manageable. We could see in advance what we would be expected to do, the challenge seemed appropriate, and it was great getting individual feedback.'
'While I loved both these courses, the Oxford course was much better for actually learning. I bought the recommended text and have a file full of notes! The MOOC was an opportunity to apply some of the things I'd learnt on the Oxford course - but I considered it more of an opportunity for guided reading.'
The tutor viewpoint
Author and publisher Frank Egerton, who has tutored on our online course Getting Started in Creative Writing, says, 'Teaching the Oxford online course for nearly six years was an exciting, challenging and profoundly rewarding experience. The size of each group is small enough for you to get to know each student - and how they work - individually, through both their posts to forums and their assignments.
The challenge for the tutor is often to do with the sheer numbers of posts made. But this reflects the enthusiasm that the course's structure stimulates, encouraging, as it does, close work between tutor and student, as well as energetic group discussions. Rising to the challenge of replying to posts, giving detailed, personal feedback, is rewarding because it is fascinating to get to know each student and what really interests them as writers. To see how they develop over the ten weeks is terrifically exciting!'
Overall, students on our courses typically feel that the study they're doing online is as every bit rigorous, and as valuable, as a traditional, face-to-face course. Students tell us that the international makeup of our student cohorts, combined with the more personalised experience that is the hallmark of the Department's courses, makes the world a very small and friendly place indeed.
To learn more about the Department's online courses, please see: http://www.conted.ox.ac.uk/online